Knowing how to act in the event of a fire is an essential skill for every employee to have. Fire damages property causes injury or death, and can even eliminate jobs since many buildings destroyed by fire are mostly not rebuilt.
That is why in coordination with the Bureau of Fire Protection under the leadership of SFO2 Mard Rasonable RCrim, FO3 Rovan Joseph Loberino, and FO2 Ronald Marcelino of Intramuros Fire Station, Toplis Solutions Inc. conducted a Fire Safety Awareness Seminar and Drill last May 25 at the Bachrach Building II parking area.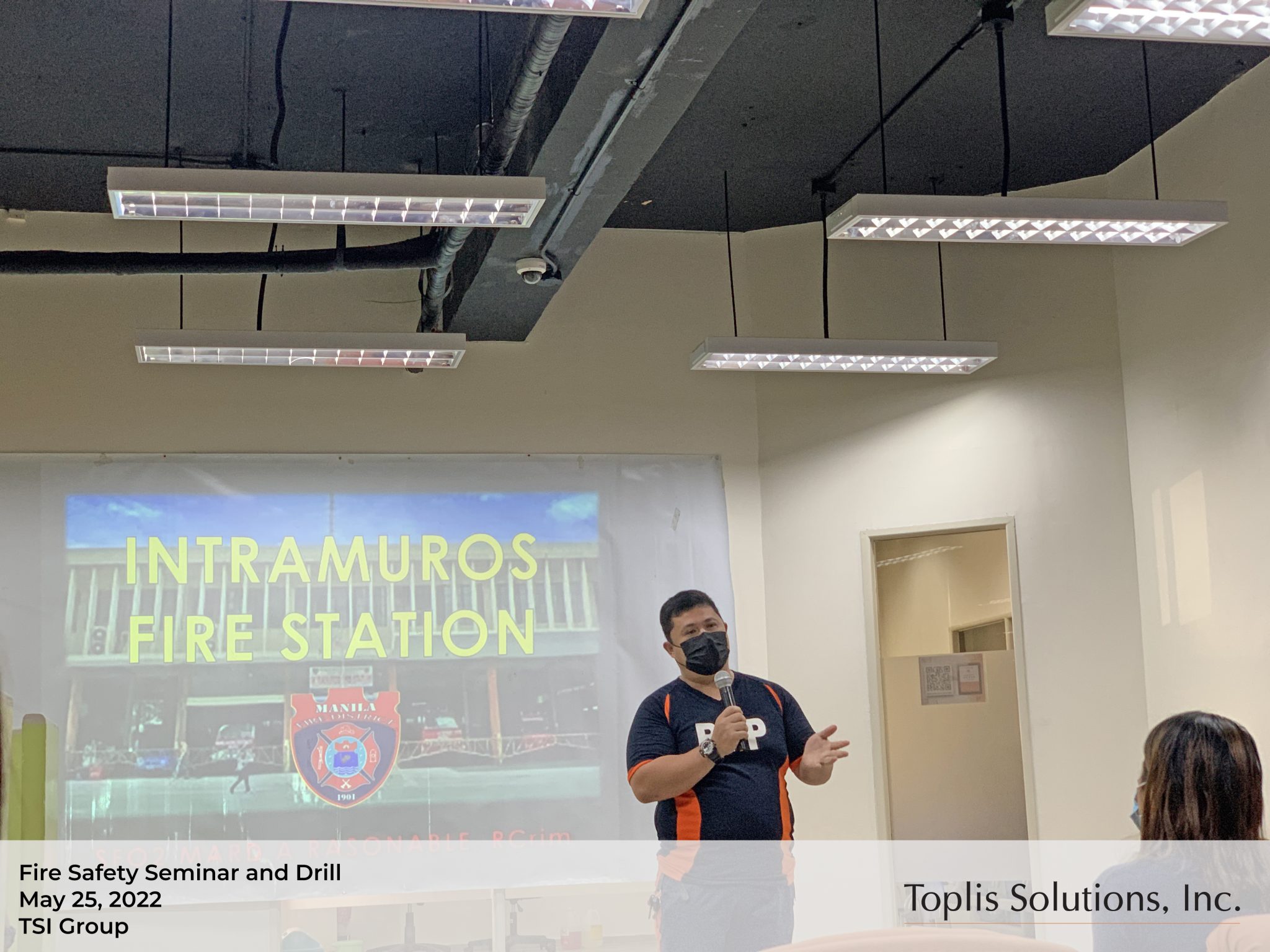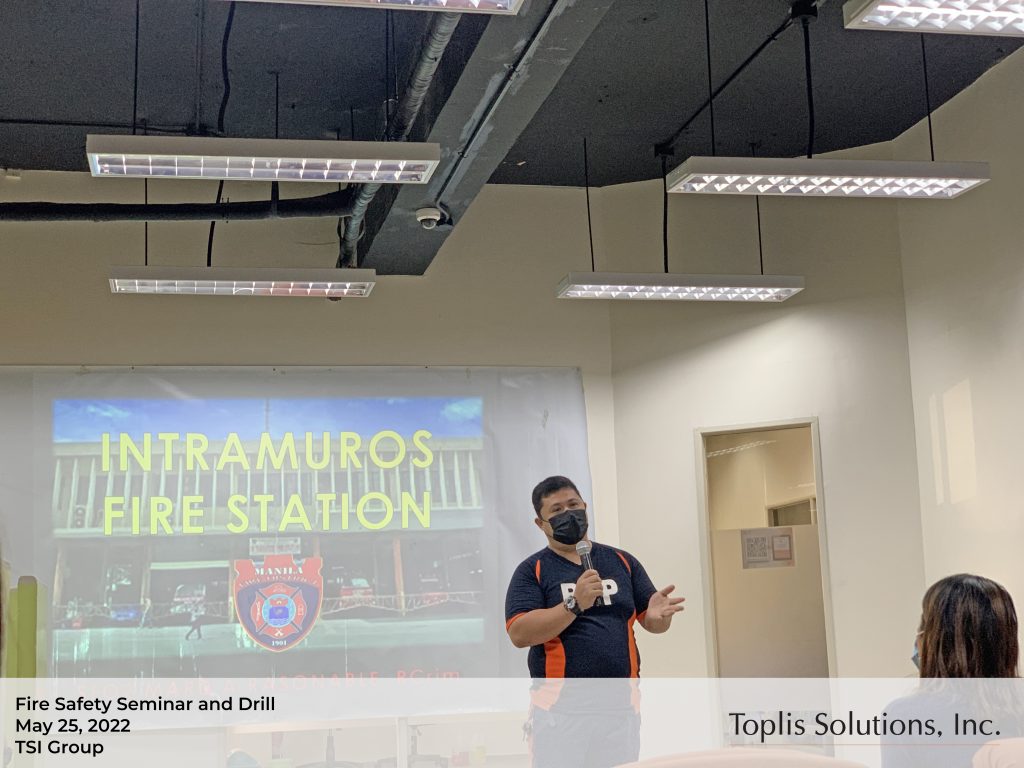 The said activity aims to increase awareness of the importance of fire prevention, educate about fire's nature, and train employees with the necessary skills and knowledge in fire suppression if the need arises. SFO2 Rasonable tackled everything from preventing fires and following the correct procedure, to how to stay safe and escape in the event of ablaze.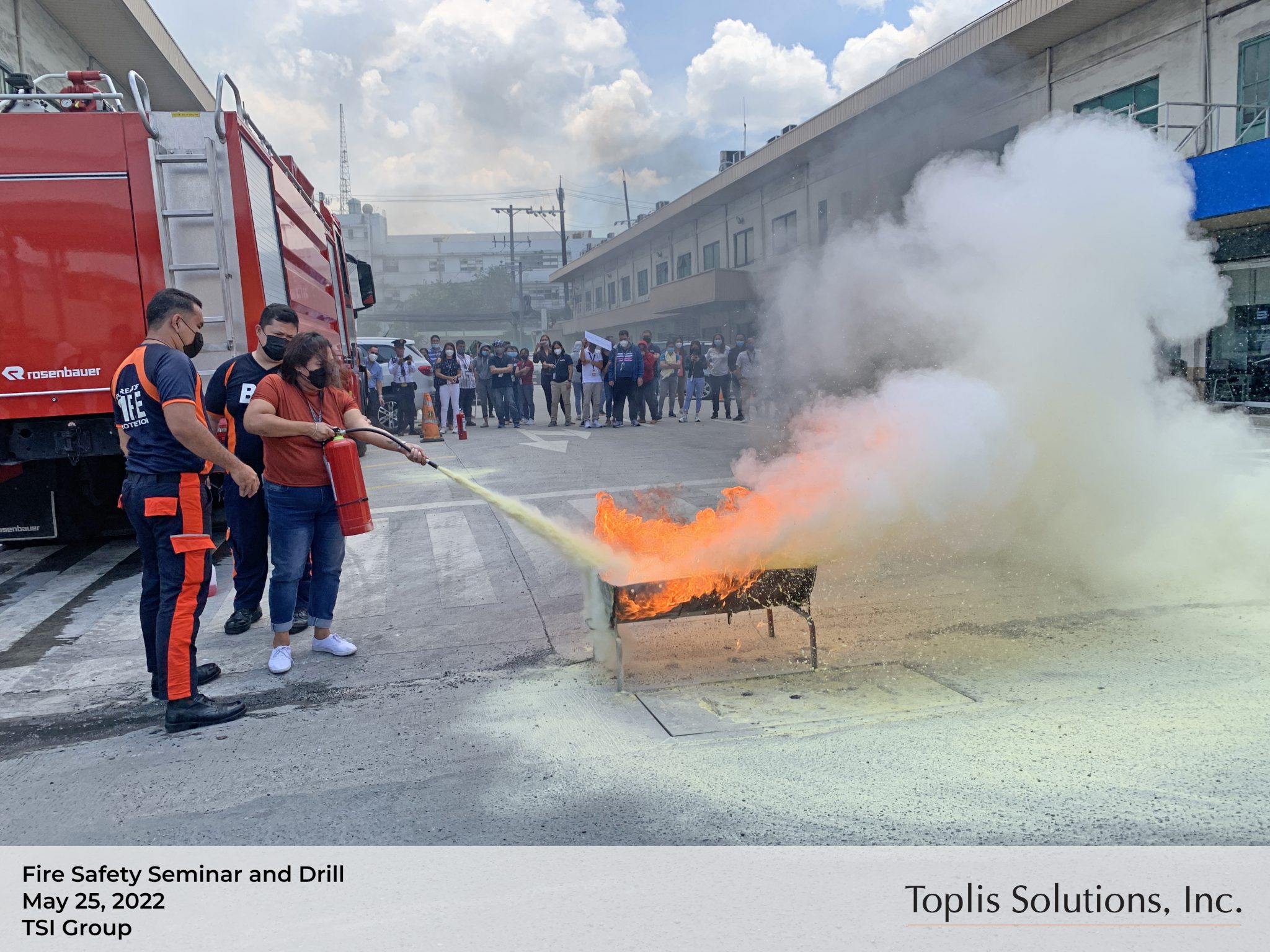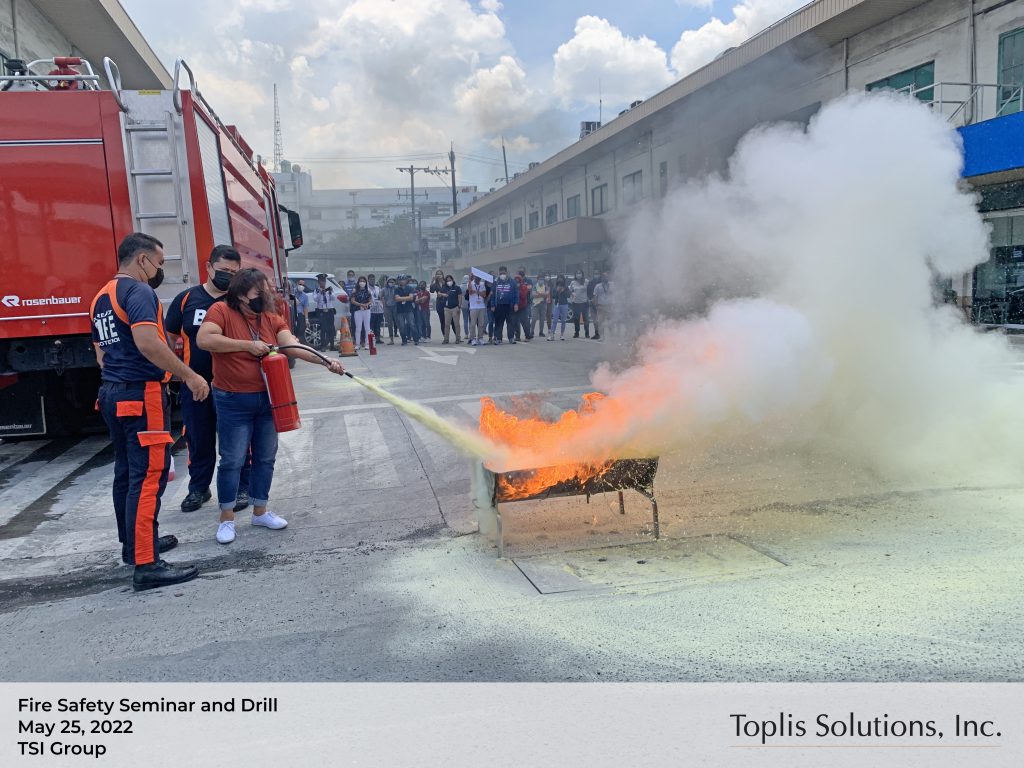 Learning how to respond to a fire is essential in creating a clear understanding of protocol in an emergency situation and is the highlight of the training. With the fire alarm signal, TSI Safety Officer ordered all employees to safely evacuate their area and isolated themselves 15 meters away from the fire. An employee volunteered to put out the fire with the guidance of a BFP personnel. The actual drill gave the employee the chance to be familiar with basic fire protection systems including the basics of fire extinguishers and how to use them. After the drill, SPO2 Rasonable gave his observation on how to gauge each employee's level of readiness and areas for improvement.
In the event of a fire, keep in mind to call your nearest fire station. Here are some of the hotlines that you may reach in case of fire and other emergencies:
Bureau of Fire Protection – NCR Emergency Hotline
Emergency Hotline – 911
BFP Manila – 5336-5138
BFP Caloocan City – 5310-0527
BFP Malabon City – 8292-7339
BFP Navotas City – 8281-0854
BFP Valenzuela City – 8292-3519
BFP Pasay City – 8844-2120
BFP Makati City – 8818-5150
BFP Paranaque City – 8826-9131
BFP Las Pinas City – 8874-6177
BFP Muntinlupa City – 8842-2201
BFP Marikina City – 8646-0427
BFP Pasig City – 8641-2815
BFP Pateros – 8641-1365
BFP Taguig City – 8837-0740
BFP Mandaluyong City – 8532-2189
BFP San Juan City – 8725-2079
BFP Quezon City – 8330-2344